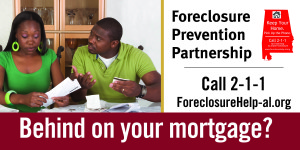 Behind on Your Mortgage? Help is a Phone Call Away.Families faced with losing their homes to foreclosure can call the 2-1-1 Contact Center (or 1-888-421-1266) and get connected to a helpful professional in the Foreclosure Prevention Partnership– where over 20 Alabama nonprofits and community partners are working together to help families avoid foreclosure.
By calling the 2-1-1 Contact Center you'll will be connected to the foreclosure prevention partner that can best help with your individual needs – including free financial counseling and legal advice.
UWAL is dedicated to providing as much information to our donors and the community as possible. We have a responsibility to our donors, partners, and the community itself to ensure that the dollars entrusted to us are invested in ways that will produce results for the community, and that we operate efficiently.
We believe that transparency is critical in achieving our mission and success.
We are an independent 501(c)(3) organization.  We are a member of United Way Worldwide and annually complete certification of strict membership requirements that include:
Tax-Exempt status under Section 501(c)(3) of the Internal Revenue Code as well as corresponding provisions of other applicable state, local or foreign laws or regulations.
Governance by an active, responsible, and local voluntary governing board that ensures effective governance over the policies and financial resources of the organization.
Code of Ethics has been developed and adopted for all volunteers and staff that includes provisions for ethical management, publicity, fundraising practices and full and fair disclosure.
Diversity and Inclusion policies/statements/practices have been adopted to ensure volunteers and staff broadly reflect the diversity of our service area.
Financial Accountability as demonstrated through an annual financial audit conducted by an independent certified public accountant whose examination complies with generally accepted auditing standards and GAAP.
Public Reporting and Disclosure each year by annually filing the IRS Form 990 in a timely manner and providing the IRS Form 990 on our website, at our office, or upon request.
Legal compliance with all applicable local, state and federal operating and reporting requirements (e.g., nondiscrimination, Sarbanes-Oxley Act, USA Patriot Act.)